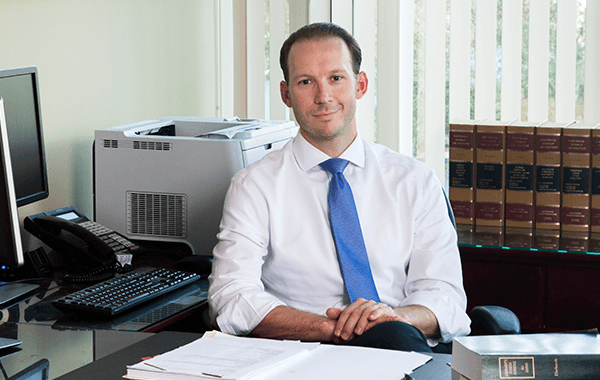 HOW I GOT MY START
I've always been a storyteller. Yet, even though I've been a natural presenter for as long as I can remember, I didn't fully recognize my calling for trial advocacy until I attended law school at Nova Southeastern University (NSU). During law school, I was an active member of NSU's competitive mock trial team — an exclusive honor society with limited membership — and in 2009, I was asked to represent NSU at a national mock trial competition in Providence, Rhode Island. That's where I first fell in love with the courtroom.
Throughout the remainder of my academic career, I went on to earn several trial advocacy awards and gain professional experience at the Broward County State Attorney's Office, where I was a certified legal intern. The main function of my internship was to assist prosecutors with handling their daily dockets, reviewing cases, preparing pleadings, and trying cases — all excellent experience for an aspiring trial attorney.
MY INTRODUCTION TO CRIMINAL LAW
Following graduation, I worked as an assistant state attorney at the 17th Judicial Circuit State Attorney's Office in Broward County, Florida, where I began my prosecuting career in the Misdemeanor Trial Unit. There, I handled and tried all types of misdemeanor offenses, the majority of which were DUIs. My trial skills were quickly noticed, and I was promoted to the Felony Trial Unit within a relatively short period of time. By the end of my tenure as a prosecutor, I primarily handled first-degree felonies and felonies punishable by life in prison.
I tried over 50 jury trials to verdict as a prosecutor, many as sole counsel, and was repeatedly recognized by the office for obtaining guilty verdicts on career criminals, violent offenders, prison release re-offenders, and habitual offenders. Because of this experience, I have handled all types of criminal matters and have worked closely with law enforcement to investigate and build cases. Ultimately, this has taught me how law enforcement and prosecutors evaluate cases and what factors they rely on when filing charges, forming plea offers, and taking a case to trial.
It's my job to verify the facts in your case, but it's my passion to uphold your constitutional rights.
EXPANDING MY SKILL SET TO CASES OF INJURY
After leaving the State Attorney's Office, I entered the private sector and joined the litigation division of a prominent Fort Lauderdale insurance defense firm, where I handled hundreds of cases on behalf of major insurance carriers. My trial expertise quickly shined, and I was authorized to try civil trials within a year of joining the firm as an associate. In fact, I was the only associate permitted to do so. Thanks to this experience, I am very familiar with how major insurance companies evaluate, process, and handle claims. I understand what factors they rely on when litigating cases, when forming settlement offers, and when trying cases.
WHERE I AM TODAY
Now, I focus primarily on the plaintiff's personal injury and criminal defense. If you have been injured or arrested, I am well prepared and ready to fight for you. I realize how stressful both of these situations can be, and it is my mission to bring you good news and help take the stress off your shoulders. In order to do this, I customize my approach to fit your unique needs and work with you one-on-one every step of the way.
Some of my clients find it comforting to know that I am a longtime resident of Florida. I was raised on the Treasure Coast in the town of Vero Beach before relocating to Boca Raton, so I understand the people of this region well. I have been working in Florida courts since beginning my practice, and I'd love to use the reputation I've built to serve you.
BAR ADMISSIONS
EDUCATION
Juris Doctor - Nova Southeastern University

Bachelor of Arts - Florida State University
AWARDS
The Krupnick Campbell Award, awarded to one student demonstrating exceptional skills in the area of trial advocacy

The NITA Excellence in Advocacy Award, awarded to one student exhibiting exceptional advocacy skills

The Order of Barristers, awarded to ten students displaying excellence in advocacy while participating in intramural and interscholastic trial or moot court competitions
OTHER ENGAGEMENTS
Represented the Felony Trial Unit at the Gerald T. Bennett Prosecutor & Public Defender Trial Training Program at the University of Florida (2011)

Represented the Misdemeanor Trial Unit at an advanced DUI seminar presented by law enforcement (2010)